Consider the Conversation --   A Documentary Film That Helps Us All Talk About
"The End of My Life"

The end of my life is not a topic of everyday discussion. Yet, these documentary filmmakers are showing that death with dignity in America would be dramatically changed if we would all talk about and share our end of life decisions now.


It's not every day that you meet two guys from Wisconsin that have become so passionate about changing the culture of end of life planning in America that they would disrupt their lives for two years to make it happen. This remarkable film project is the brainchild of Terry Kaldhusdal and Mike Bernhagen who are doing just that.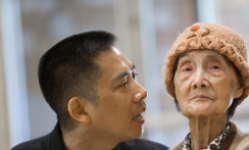 Consider the Conversation: a documentary film
"'Consider the Conversation: a documentary film on a taboo subject' examines multiple perspectives on end-of-life care and includes information and experiences gathered from interviews with dying patients, family members, doctors, nurses, clergy, social workers, and national experts on death and dying. To date, Mike and Terry have shot approximately 70 hours of film and conducted in-depth interviews with 40+ individuals from California, Illinois, New Hampshire, Massachusetts, New York, Vermont and Wisconsin."


They've talked to 62 random folks on the streets of New York City and asked them to talk about "the end of my life".


They've got some of the superstars in end of life planning that are featured in the movie --


Ira Byock, M.D., Director of Palliative Medicine at Dartmouth-Hitchcock Medical Center

Elliott Fisher, M.D., head of the Dartmouth Atlas of Health Care

Stephen Kiernan, author of Last Rights: Rescuing the End-of-Life from the Medical System

Bernard "Bud" Hammes, Ph.D., Clinical Ethicist, Gundersen Lutheran Health System

Susan Dolan and Audrey Vizzard, co-authors of The End-of-Life Advisor: Personal, Legal, and Medical Considerations for a Peaceful, Dignified Death

Doug Smith, author of It Takes a Village to Say Goodbye

James Cleary, M.D., Director of Palliative Medicine at the University of Wisconsin Hospital and Clinics

Thomas Cathcart and Daniel Klein, authors of Heidegger and a Hippo Walk Through Those Pearly Gates

Loretta S. Downs, President, Chicago End-of-Life Care Coalition


And they interviewed ME!!!


Rev. Dale Susan Edmonds. I've been a Hospice Chaplain, Community Educator, and currently Coordinator for Congregational Care, and Creator of Talk-Early-Talk-Often.com. In the film I talk about the role of spirituality in the end of life conversations. But I digress. I am honored to be a part of this conversation -- but the real stars are all of you.


I want you to do these 5 things:


1. Check out their website, ConsidertheConversation.org and get to understand the scope and importance of what they are up to in changing the end of life conversations in America.


2. Consider donating to this grass roots project. They are just completing Part 2 of a three film series. Better yet, don't consider it --- just do it.


3. Make sure you tell your family, friends, colleagues to look out for your PBS television airing in and watch. (Call your local station and find the date.)


4. A DVD is now available on Amazon.com. Get your family, congregation, or organization to purchase it and host a viewing together. (Note: There are two versions, one a personal viewing license and another for educational/public viewing.)


5. Come back here and participate in the end of my life discussion below.


Thanks for supporting these guys and being a part of such an important movement.



See another clip from Consider the Conversation.
---
The End of My Life: Let's Start Our Own Conversation...
We all have ideas about what we would like to have happen at the end of our lives....


Why is it so hard to talk about?

Who would you like to talk to? and

What would you like them to know about what YOU want at the end of your life?

Did you ever have an end of life conversation that surprised you?


Share your story below.
What Other Visitors Have Said
Click below to see contributions from other visitors to this page...

End of Life Planning

From The End of My Life to Aging Parents Home



---




---
---