Books Recommended on Elderly Needs
Elderly needs have probably stumped you more than once. You've proposed what seems like a simple solution, and instead, have faced accusations, resistance, and obstacles that you never anticipated. You wish that someone could interpret what happened and give you some clues to avoid the roadmines in the future.


Mary Pipher, Ph.d. has done just that. Through personal experience with her own mother and through insights that she has gleaned from years in her clinical psychology practice, she has made them available in this revealing book.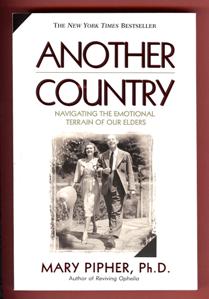 Another Country: Navigating the Emotional Terrain of Our Elders

by Mary Bray Pipher

Publisher: Penguin Group (USA)
Pub. Date: 2000
ISBN-13: 9781573227841
352pp
The goal of the book is to help each generation understand the other. Pipher describes the stalemates created within the age-spans of families stressed by our present society.


We live in a culture that is segregated by age. It turns out that the strict age division is ultimately destructive for everyone. Her hope is that the generations can learn from each other and provide the correctives to heal each other and strengthen the nation.


Through her work with families -- parents and adult children wrestling with the confusion surrounding elderly needs, she has discovered a road map that will help lead you through the haze.


She skillfully demystifies many of the divides that elude us. The beliefs and values of a communal generation verses that of an individualist generation. What happens when those raised among extended families within a close geographical proximity are thrust into a society where families are dispersed and constantly on the move.


Pipher provides many stories from sessions and interviews with elders and adult children. You just may see many of the conversations and clashes that you've had with aging parents played out before you, and discover helpful possibilities for a way forward.
---

To Recommended Books page
Recommended books to help aging parents.


From Books on Elderly Needs to talk early talk often with aging parents Home Page
---




---
---