Explore Illinois Senior Services for Your Aging Parents
Many Illinois senior services can be accessed through a state government and local community agency partnership through the Area Agency on Aging.
Click on the map below to be taken to the Illinois State map for Area Agency on Aging programs and discover a variety of programs for aging parents in your area.

Scroll further down this page and you will find brief descriptions and links to other senior services offered by the state.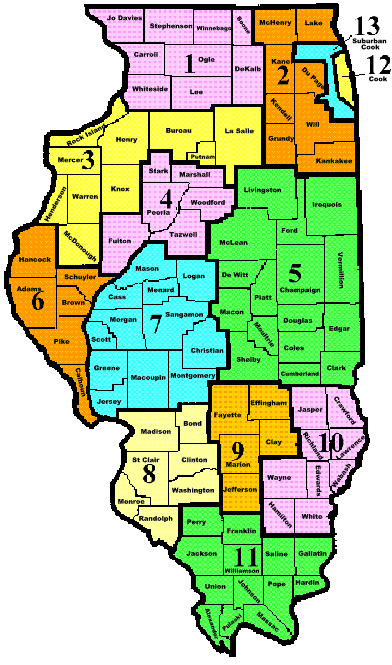 These programs are accessible by County. Programs vary, but provide such services as:
  Adult day service for the senior citizen and respite services for the caregiver
  Individual counseling and support groups
  Services that help senior citizens remain in their homes:
  Home-delivered meals
  Assistance in housekeeping
  Home modification
  Assistance finding assistive devices
  Training, counseling and emotional support
  Transportation services
  Financial information and services
  Legal services
  Caregiver training
  Case management assistance
  Employment programs

Choices for Care - booklet Provides Q&A for the variety of senior care needs or issues and what agency to seek out for help. PDF.


Talking Book and Braille Service
A Network of four Interlibrary loan centers that acquires and circulates resources for people who are low vision or blind, which includes many aging parents.



Illinois Healthcare Portal for Seniors
Contains information about help for paying for Prescription Drugs, Senior Health Insurance Program (SHIP), Illinois Prescription Buying Club, Senior Helpline


Long Term Care Ombudsperson
A PDF list of the state ombudspersons for long term care. They are charged to receive reports about elder abuse or standards of care in long-term care facilities.


Alzheimer Association Chapters in Illinois
A variety of services, programs, educational materials and resources to support people with Alzheimers, their families, and their caregivers


---
Illinois senior services to Senior Citizen Services


Aging Parents Home Page

---




---
---