Holiday Stress Management:




Are You Desperately Searching for Answers When Visiting Aging Parents?




At this time of year many are visiting aging parents and the anxieties about what they will find when they get there are legion, so I am sharing here, for the first time, a resource from my business that you may find a big stress release. And if not you, probably it's something you can share with a friend or two!
---

 How to Navigate the Holidays with Aging Parents, a Toolkit by Dale Susan Edmonds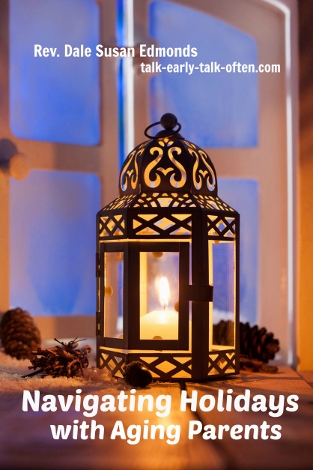 ---
You may be looking forward to the holiday season with mixed emotions. It's a special time of year that you prepare for and look forward to being with family that you may not have seen for some time.  You have fantasies about how it could turn out.


Then you confront the realities.
You've gone home to visit your family and have run into a situation that you just don't know how to work your way through.  Maybe you found your mother's arm is in a sling and you discover this is the third fall that your folks failed to tell you about. Or it's the first holiday after Mom died and you just don't know what to say to your dad. Or any number of things that could take the joy of out the entire season!
You've run into a roadblock with extended family and are not sure how to move forward. Things like your sister wanting to talk about 'what to do about moving' at Christmas dinner, or your brother's incessant questions about how money is being spent. Or your sibling's arguing about 'just taking away the car keys"  -- the list is long.
You've got so many questions and you are wondering how to put order into your thinking so you can prioritize the things that need attention and what to tackle first. The things is, you can start small. It's very doable. And you can still enjoy the family time.


I have specialized in these kinds of situations and for the first time in a 30-year career, I have something new I'm excited to offer as help. There are two options:


---

Option One: Navigating the Holidays with Aging Parents - the Toolkit
This immediately downloadable, printable ebook is 60 pages long and covers A Checklist for Occasional Visits, Grief at the Holidays, Holiday Family Conflict, Reset Holiday Expectations and more. Special holiday pricing of $49 is available by clicking here.
Do it now before you forget…
---

Option Two: Holiday Season Family Relationship Tuneup - with the Coach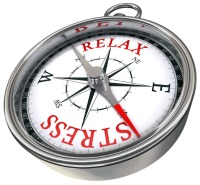 With this option, you receive the Toolkit as well as an individual hands-on coaching conversation with me, where we answer as many questions as you like for 45 minutes, about your family gatherings this year. Enter the season with increased confidence about your ability to tune-in to what's most needed for your parents, or to see clearly in the midst of family chaos or drama.

Special holiday pricing of $165 includes the ebook. We can book the individual session throughout the next two weeks.
The next 5 to take up Option 2 will receive the added benefit of a Follow-up Call in this New Year to continue to help you navigate the Aging Parent conundrums you've discovered and set a course for the year ahead.

---
For questions:

Feel free to email me at: dalesusanATtalkearlytalkoften.com
You will receive the ebook immediately after payment as well as a request for your preferred times for the Holiday Season Private Coaching Tune-up. Let's get this stress off you!

Here is a small sample from the introduction of the ebook:

---
             GETTING THE MOST FROM THIS TOOLKIT

It's the holiday season and time for family gatherings. You may wish for "the ideal", but often there is a deeper ambivalence. Whatever concern brought you here, I created this Toolkit to help you set a course to make the best of the holidays, but also to look ahead with your aging parents.  Don't try to read it all at once. It's not a novel.

So I invite you to take 10 minutes and complete the Pre-Work.  Get clear within yourself about where you can dig in and make things different.  When?  Dig in while you're in the airport or on the plane.  Take in a few pages when you grab some quiet moments early or late in the day.  The Worksheets are designed to help you prepare to know what to look for as you visit your parents, as well as provide tools for more effectively handling family issues as they arise.


Another alternative
 
If you're really crunched for time, just flip through the Table of Contents and see what really catches your heart.  Settle on a topic - read it through and complete the questions. Wherever you land, if you're open to the possibilities, you can find help.

Finally - go to the Reset Holiday Expectations page.  Let it guide you through the creation of a new mental picture and a new plan for the holidays.


And if you need more help?

If your time with your aging parents leaves you with even more questions and you want to add the Holiday SOS individual coaching session later? You're welcome to let me know by January 15 and I'd be happy to honor the Holiday Pricing for you.
 
Talk to you soon,

Dale Susan

---
P.S. If you think you'd like the ebook but may want to add the Holiday SOS coaching later? You're welcome to let me know by January 15 and I'd be happy to honor the pricing for you.


P.P.S. Just one person whose words help show you how much better, lighter, happier things can be in your relationships with your aging parents:

---

A Testimonial
Your guide has been the best so far in my search for information in initiating conversation between adult children and aging parents.[…]

I want to thank you for allowing me to use your material. It was very beneficial. [...] the comments were positive, such as the information from your workbook was easy to follow, understand, and common sense.
You are a positive influence...

Respectfully yours,

Becky Sporrer, LBSW-MBL  Options Counselor, Area Agency on Aging, www.elderbridge.org


Written about another guide authored by Dale Susan Edmonds:
Set the Right T.E.M.P.O.
5 Steps to Ease Talks with Aging Parents

---